One of the questions I get the most, is probably the reason for why you found this page; "How to plan a motorcycle trip?"
Well, it's not a secret that I like planning. I don't want to miss out on something great if I'm in an area that I will not come back to in the near future… There is nothing more annoying than realizing that you have been somewhere, and missed the opportunity to see something fantastic, just because you decided that planning is not needed and that "the road is the journey"… 🤮 Of course the road is the journey!! But I want the BEST roads, the greatest views and the coolest sites when I'm riding, not relying on luck…
From A to B
I don't know about you, but my trips normally starts with an event at point B.
Home is of course point A. I have a family and small kids, so I normally don't have the freedom to spend weeks (or months) just to go "riding". There is usually a goal, somewhere I got to be – at a specific time… But that is of course a fantastic opportunity to plan and do detours!
Software
To plan the actual trip on my Mac, I use what I have fond to be the best software for my needs; My Route App (MRA). Yes, it cost a few bucks, but man, have I planned 100s of tours with this one… It's pretty straight forward, you add a starting point and an end-point. Just like Google Maps, it will suggest a route. But unlike Google Maps, I can turn off the avoidance of winter-closed roads if I during winter is planning a trip for the summer. I can edit my route on the go with the mobile app, and it also has a standalone navigation app, giving you turn-by-turn navigation, turning your phone into a capable GPS device. I can easily avoid highways, add photos, notes, etc, etc. But remember that any route planning tool is either giving you the shortest route or the fastest route – on the widest, most boring roads. None of them are interesting to me, so now I start adding via-points…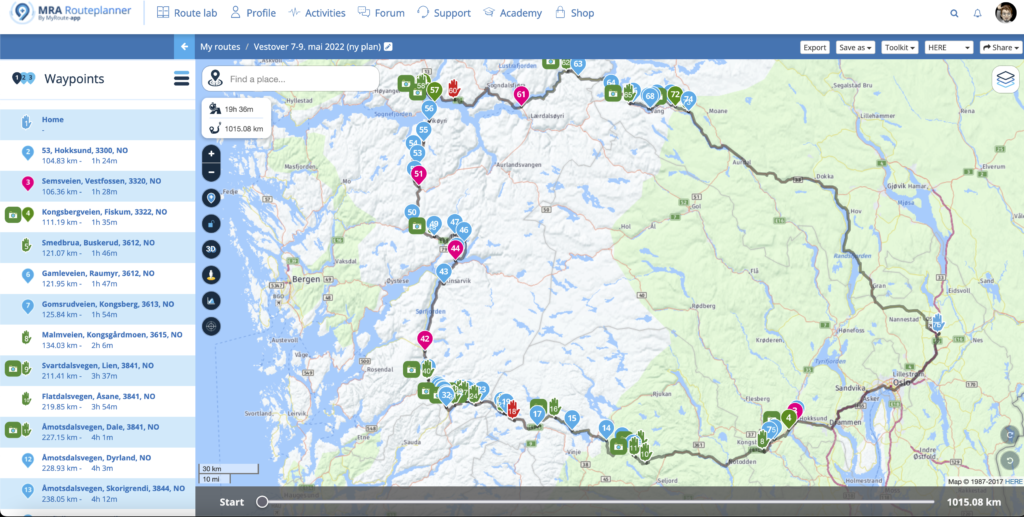 Sources
Via-points are my planned stops, sites, detours, or roads that I want to ride. Via-points will not be ignored by the GPS – I have to drive through them. The via-point are – to me – the real journey. The reason to travel. And since I know which areas I will ride through, I start searching my usual sources looking for places and roads I want to ride.
My first source is of course my own site, bucketlistnorway.com. That's why I created it, to collect places I want to see. 🙂
Another source I use a lot, is the UNESCO list. The items on the UNESCO list are protected for a reason. They are often interesting and special, and well worth a visit if you are passing a site. Many, me included, are 'collecting' them and trying to see as many as possible…
Another great source is of course YouTube.com! If I see a video of someone doing a great adventure, I note the names of interesting places that I didn't know about, and add them to my bucket list.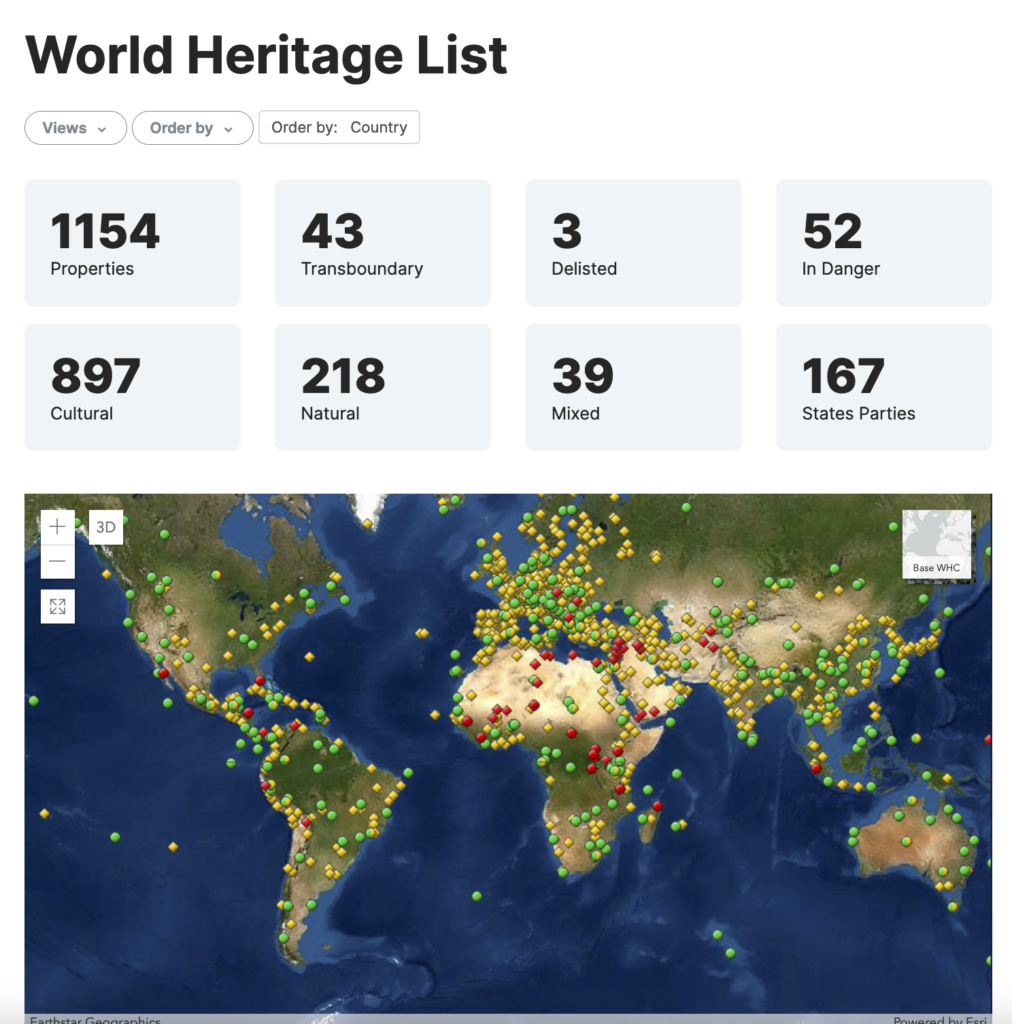 Map sources
If sleeping at camping sites are your thing, CampingPortalen.com offers an overview and description of more than 1000 camp sites in Norway.
If you are going wild camping, this Google Map overview of free shelters can be useful.
And this Google Map is made for mobile homes and camping trailers. It shows places where these vehicles can camp for free. Some are dull parking areas, but you can also find hidden gems in the nature. If they can stop with their cars, you can for sure pitch a tent…
If you are travelling, iOverlander is difficult to ignore. It is too extensive to dive into it all details in this article, but remember to filter on what you are searching for. I don't use iOverlander as a planning tool while sitting at home in front of my Mac, but rather as a tool when I'm out on the road. When plans are about to change, it's a handy tool to have in your pocket – as it also comes as an app for your phone.
Norway has a 100 915 km long coastline. Throughout time, we've had 212 lighthouses. Today we have 107 still operational. They are great and photogenic stops on your journey, so check out some lighthouses if you're close.
Tripadvisor.com is maybe a bit mainstream and offers more than just sites (and no roads). But if you are staying for a longer time in one place and have time to kill, check out what they offer.
If you ride in the spring, you might wonder is a certain mountain pass is opened after winter or not. Check this map from the Public Road Administration.
Looking for gravel?
If you are looking for gravel in Norway, be warned that most forest roads are private and closed with a gate…:-/ But some are public. Trans Euro Trail (TET) has found 4 really long tracks in Norway, and they are not too technical. I've done longer parts of three of them – alone on a huge BMW r1200 GS Adventure.
If you want to see what a location looks like, click the symbol that looks like a man in Google Map to bring up Street view. Another way to see and even explore a place from above, is the Public Road Administration's map. Zoom in, and click "Flyfoto" at the bottom of the menu. You will get more details from these aerial photos than you get from the more grainy satellite photos at Google.
Transfer to the GPS
When my route is all good and done, I can easily transfer it from MRA to my Garmin Zumo XT. I can do this wirelessly from my phone, which is a huge plus, because it allows for editing the route while on the road, which leads to my next point of planning;
Embrace change 🙂
Even if I like to plan my trips, I want to stay open for changes as better alternatives, cooler roads or even problems or obstacles may force you to replan. The real trip will take longer than you planned, so don't put the places you really want to see last on your daily trip list.
Don't book accommodation in advance
It sounds risky not to prebook a place to sleep, but if you are just slightly off the tourist mainstream tracks, you will find accommodation. The reason not to prebook, is of course to add the freedom of changing your plans. Maybe you stayed longer on a site than you planned? Maybe you don't feel like driving the last 150 km's, or maybe you talked to someone that had an interesting suggestion.
I've had luck with Booking.com. A few hours before I want to end the day's riding, I check out accommodation along my route on their online map. Note that even if booking.com says that a place is fully booked, it often means that the number of rooms booking.com have available at that location is sold out. Call the hotel and ask. There might be rooms left.
If you should be out of luck, use Google Map or CampingPortalen.com to find a camping site. They often have small cabins to rent, or a place to put your tent. I always bring a tent or hammock. You can also look for private "Room for rent" signs along the road, but I see fewer and fewer of those…
Enjoy your planning – and your trip!
---
Interested in the topic? Read WHY I plan my trips in details, and how you can make your own Bucket List here in this site.
And please add any other sources that should be mentioned in the comments below!
See you out there!!